Currently viewing the tag: "Japan"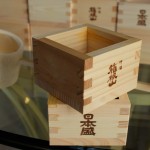 Ook dit jaar komen de nieuwjaarswensen vanuit Okinawa, Japan.
Om elf uur 's ochtends geen hypokras uit een fontein zoals in Basel maar wel sake uit cederhouten kopjes om het nieuwe jaar te groeten.
Ik wens jullie graag een fijn, warm, vrolijk en yummy 2014.
Continue Reading

→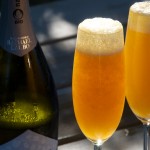 Peach Boy.
Of Momotaro in het Japans.
Deze cocktail kan dan wel de mosterd gehaald hebben bij de klassieke Bellini uit Venetië maar de inspiratie kwam de andere kant van de wereld.
Momotaro is één van de populairste folkloristische helden in Japan.
Het verhaal is dat van een kinderloos koppel dat op het platteland [...]
Continue Reading

→