Currently viewing the tag: "ricotta"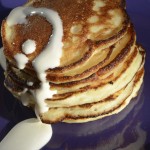 Qua ontbijt kies ik al sinds mijn kinderjaren voor hartig in plaats van zoet.
Ik word noch blij noch energiek van een ontbijt dat enkel uit croissants en chocoladekoeken bestaat.
Tenzij er pannenkoeken op het menu staan.
Bretoense pannenkoeken, Spaanse Frixuelos, Caraïbische johnnycakes, ffroes uit Wales, Schotse pannenkoekjes of Beierse
Continue Reading

→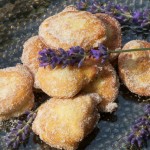 Lavendel heeft zo zijn uitgesproken culinaire fans en tegenstanders.
Ofwel ben je verkocht bij de eerste hap lavendelijs, lavendel shortbread, lavendelcake….
Ofwel begin je spontaan aan de lavendel eau de cologne te denken van een vervelende tante die je liever kwijt dan rijk was en jou meerdere jeugdtrauma's aan de hand gedaan [...]
Continue Reading

→