Currently viewing the tag: "cake"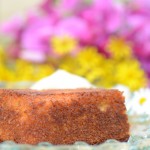 De afgelopen maanden heb ik eigenlijk enkel glutenvrije cakes gebakken.
Ten eerste omdat in onze tijdelijke keuken glutenvrije maaltijden eerder de regel dan de uitzonderingen zijn.
Ten tweede omdat, wanneer je in cake en gebak witte tarwebloem vervangt door fijn gemalen noten, het eindresultaat minder nodeloze sugar highs and lows oplevert.
Je [...]
Continue Reading

→