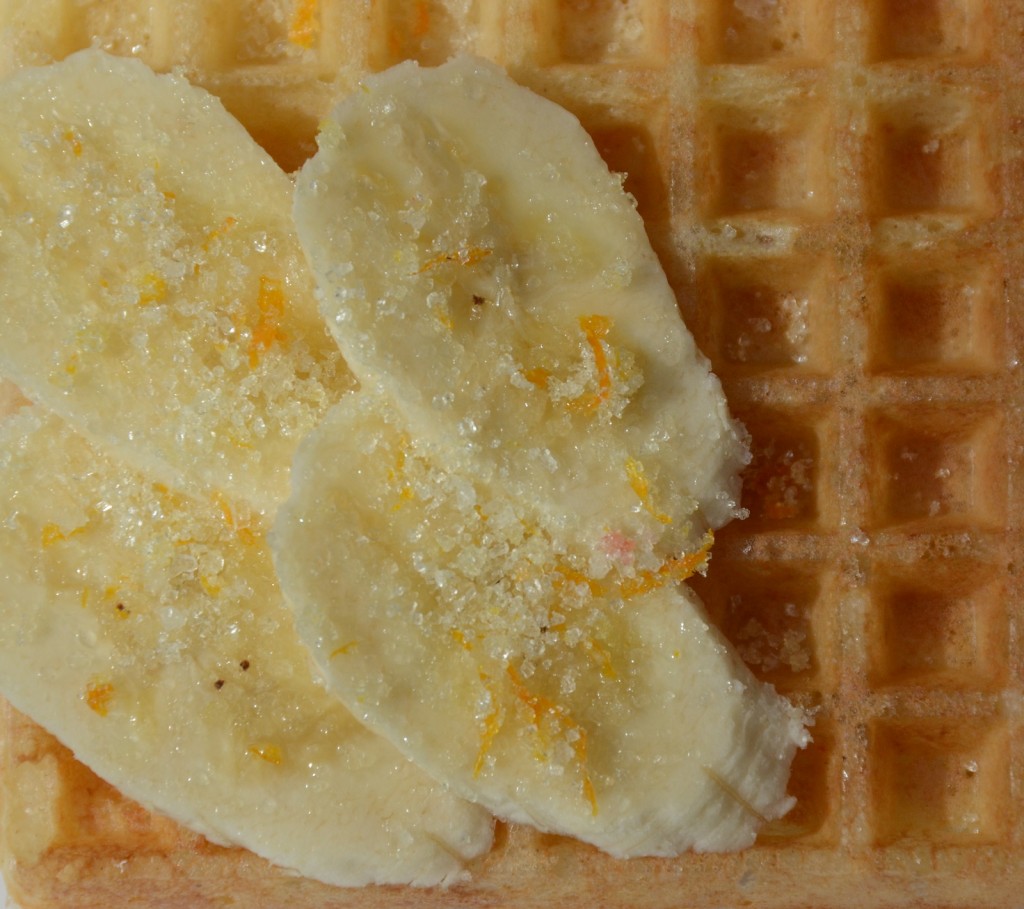 'Scroll down to bottom of page for recipe in English'
Gisteren, voor het verjaardagfeestje van een buurjongetje, had ik beloofd om wafels te bakken.
Voor de kersverse elfjarige en zijn vriendjes had ik gewone wafels gemaakt.
Wafels met heel zoete Belgische aardbeien en slagroom.
Binnen de kortste keren was het wel duidelijk dat er een volwassene in charge moest zijn van de slagroomsifon en niet een bende elfjarigen want anders werd er veeleer slagroom met een vleugje wafel gegeten.
Voor de volwassenen had ik zin om een ander beslag te maken.
Maar wegens tijdsgebrek kwamen qua smaken wel enkel wat ik al in huis had in aanmerking.
In de fruitschaal lagen rijpe bananen en sinaasappels.
In de ijskast mooie verse gember.
En in de drankkast lekkere gemberlikeur.
Et voilà.
Wat mij vaak stoort aan thuisgemaakte wafels is dat men vaker kiest om veel gist te gebruiken zodat het wafelbeslag op veel kortere tijd, zeg maar een minuut of twintig, gaat rijzen.
Ik gebruik bijna de helft maar geef mijn beslag wel een uur à twee uur om te rijzen.
Als je tijd hebt om het wafelbeslag vijf à zes uur vooraf te maken kan je de verse gist zelfs nog halveren.
Je kan voor dit recept je drankkast ook ontzien en de gemberlikeur weglaten uit het recept.
De wafels afwerken met crunchy sinaasappel- of gembersuiker en extra banaan maakt de slagroomspuit redelijk overbodig.
Maar wel toegelaten uiteraard.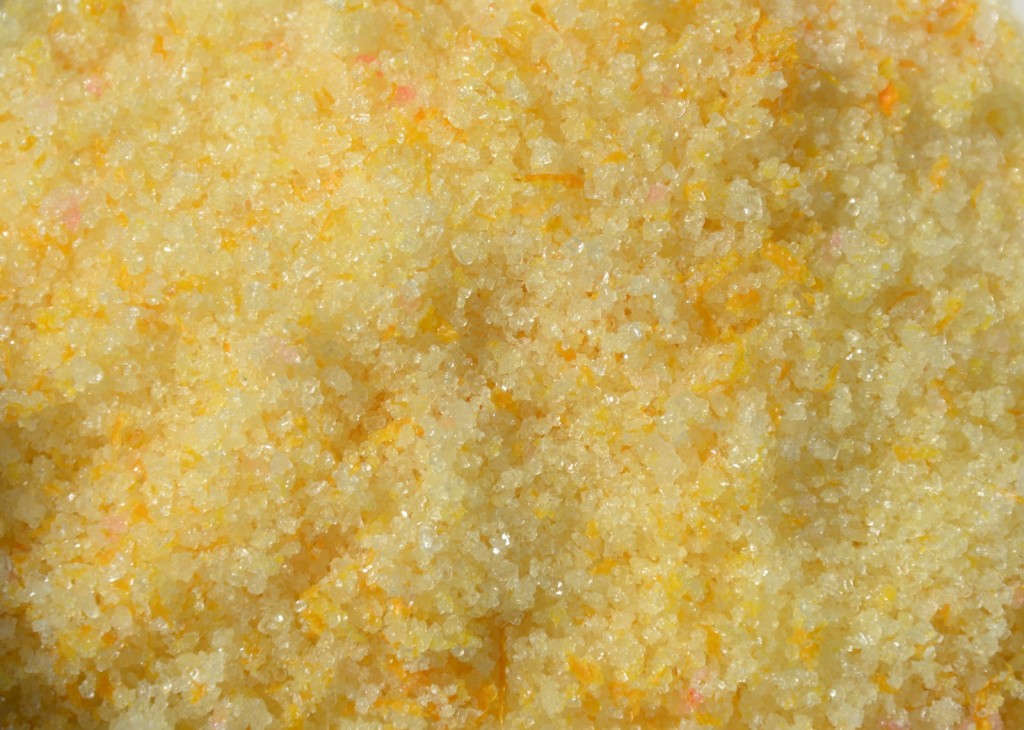 Banaan en gember wafels
Wafels:
450 g bloem
4 eieren, op kamertemperatuur en gesplitst
350 ml lauwe melk
350 ml lauw water
20 g verse gist
4 volle theelepels grof rietsuiker
2 grote rijpe bananen, gepureerd
3 cm verse gember, zeer fijn geraspt
Fijn geraspte schil van 1 grote onbespoten sinaasappel
3 eetlepels gemberlikeur
150 g boter, gesmolten
Om te serveren:
Een paar bananen, in plakjes gesneden
gembersuiker of sinaasappelsuiker
Verkruimel de gist  in een kopje dat je met heet water omgespoeld hebt.
Doe er één theelepel rietsuiker bij, 50 ml van het lauwe water, roer om en laat gedurende 10 minuten rusten.
Doe de bloem in een grote kom en maak een kuiltje in het midden.
Klop de eierdooiers los en giet die in het kuiltje.
Doe de gist en de melk eveneens in het kuiltje en roer tot een zeer glad beslag.
Roer er dan de rest van het water en het rietsuiker, de bananen, gember, sinaasappelschil en de gesmolten boter door.
Klop de eiwitten tot stevige pieken en spatel die onder het beslag, dek af en laat op een tochtvrije plaats gedurende 1 uur rijzen.
Bak de wafels volgens de instructies van je wafelijzer.
Hier koos ik voor wafels met verse banaan maar je kan ze evengoed met vers seizoensfruit zoals aardbeien serveren .
En je kan ze bestrooien met grof rietsuiker waar je ofwel verse gember of sinaasappelschil door raspt.
Deze keer werd het sinaasappelsuiker.
Let wel dat dit soort suikers heel vochtig zijn en dus ook heel vlug uitdrogen.
Je maakt ze dus best net voor het serveren of je bewaart ze stevig afgesloten.
Recipe in English:
Banana and Ginger Waffles
Waffles:
450 g flour
4 eggs, at room temperature , split
350 ml lukewarm milk
350 ml of lukewarm water
20 g fresh yeast
4 full teaspoons coarse cane sugar
2 large ripe bananas, pureed
3 cm fresh ginger, very finely grated
Finely grated zest of 1 large organic and unwaxed orange
3 tablespoons ginger liqueur (optional)
150 g butter, melted
To serve:
A few ripe bananas, sliced
ginger sugar or orange sugar
Rinse a small bowl with very hot water.
Crumble the yeast in the bowl
Add a teaspoon of cane sugar, pour in 50 ml of the lukewarm water, stir and leave for 10 minutes.
Sift the flour in a large bowl and make a well in the center.
Beat the egg yolks and pour into the well.
Add the yeast and milk as well and stir until you have a very smooth batter.
Stir in the remaining water and cane sugar, banana, ginger, orange zest and ginger liqueur and the melted butter.
Beat the egg whites until firm peaks and fold into the batter, cover and leave in a draft-free place for 1 hour.
Bake the waffles according to the instructions of your waffle iron.
Serve the waffels with sliced bananas and crunchy cane sugar to which you add either finely grated orange zest of fresh ginger.
This time I went for the orange sugar.
Note that this kind of flavoured sugars are quite moist which makes them dry out very fast.
So it is best to make them just before serving or keep them in an airtight container.