Currently viewing the category: "Recipes translated in English"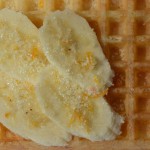 'Scroll down to bottom of page for recipe in English'
Gisteren, voor het verjaardagfeestje van een buurjongetje, had ik beloofd om wafels te bakken.
Voor de kersverse elfjarige en zijn vriendjes had ik gewone wafels gemaakt.
Wafels met heel zoete Belgische aardbeien en slagroom.
Binnen de kortste keren was het wel duidelijk dat er [...]
Continue Reading

→