Rode Biet met Geitenkaas, Granny Smith, Single Malt en Honing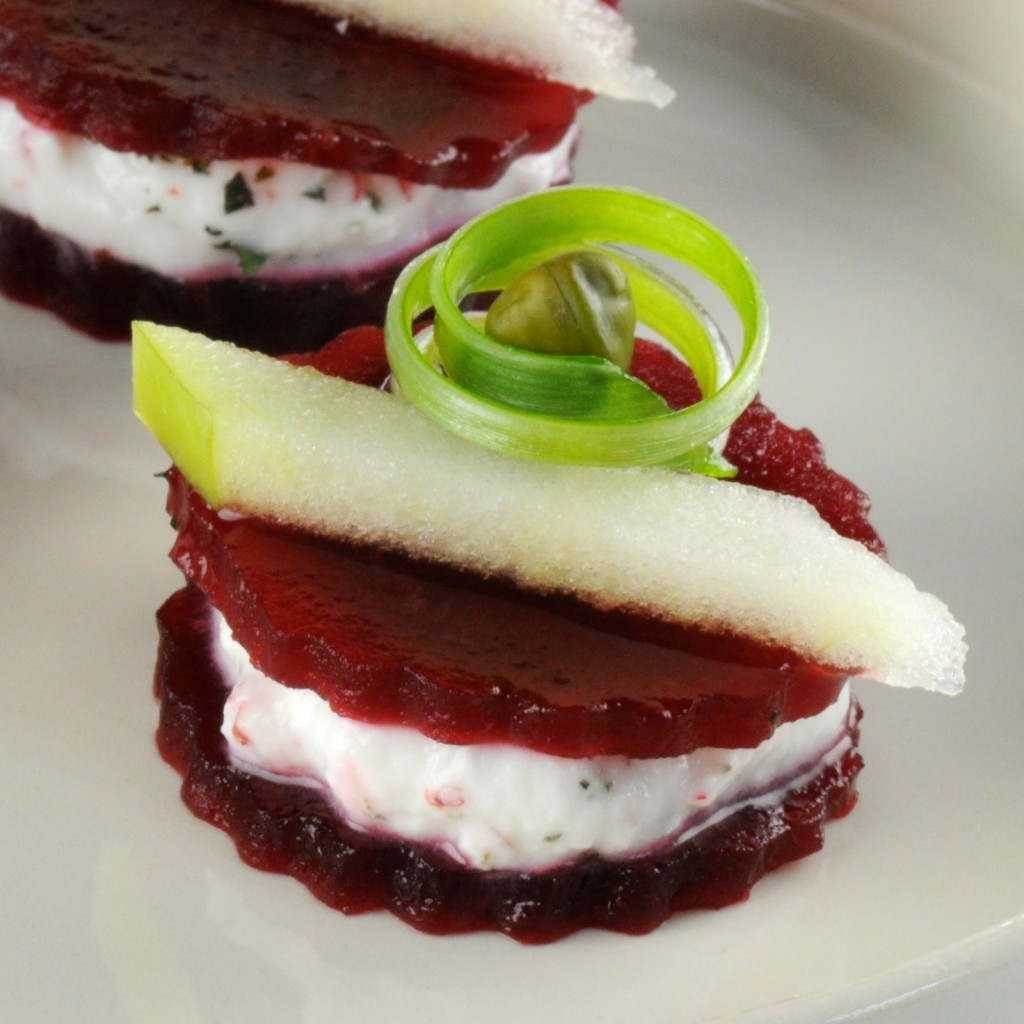 (Scroll down for English version of recipe)
De combinatie rode biet en geitenkaas mag dan een culinair cliché zijn; ik blijf het lekker vinden.
De rode bieten heb ik deze keer geroosterd in de oven maar als het nog vlugger moet kan je ook kant-en-klaar gekookte rode bieten gebruiken.
De rode bieten, maar ook het glazuur en de vulling kan je gerust een dag vooraf klaarmaken en net voor het serveren assembleren.
Ik serveer er drie persoon met daarbij een een scherpe sla zoals molsla of waterkers.
De single malt keuze kan je compleet laten afhangen van jouw smaak of wat er op dit moment in je drankkast staat.
Deze keer heb ik het glazuur gemaakt met Glenmorangie Original wat een heel zachte whisky is.
Een whisky met een meer uitgesproken turfsmaak kan echter ook.
Restjes whiskyglazuur zijn dan weer lekker bij  natuur yoghurt of warme havermoutpap.
Het zurige van de  Granny Smith appel creëert een tegenwicht voor het zoete van de biet en de honing.
Bijna elke keer wanneer ik een Granny Smith appel zie moet ik denken aan de sketch van Eddie Izzard over vitamines, fruit en Mrs. Smith voor ze grootmoeder werd.
Het komt uit zijn show de Definite Article uit 1996 en ik blijf het hilarisch vinden.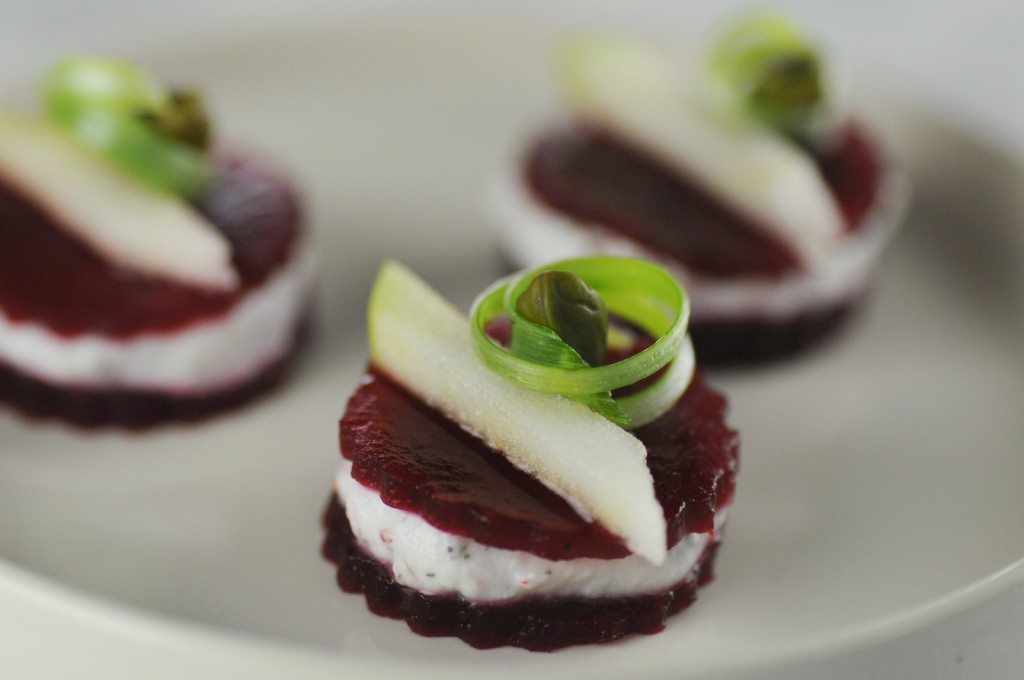 Rode Biet met Geitenkaas, Granny Smith, Single Malt en Honing
4 rode bieten, in de oven geroosterd en gekoeld tot kamertemperatuur
glazuur:
30 ml single malt whisky
2 eetlepels vers geperst Granny Smith appelsap
3 theelepels milde honing
vulling:
250 g verse rauwmelkse geitenkaas
30 ml vers geperst Granny Smith appelsap
Een kwartje Granny Smith appel, geschild, klokhuis verwijderd en heel fijn geraspt
1 volle theelepel geplukte tijmblaadjes, heel fijn gehakt
1 theelepel grof gemalen of geplette roze peper
peper en zout
afwerking:
1 Granny Smith appel in 12 batons van 0,5 cm gesneden
1 lenteajuin, in fijne reepjes gesneden
12 stuks pistachenoten
Snij elke biet in plakjes van ongeveer 3 mm.
Je hebt per persoon 6 mooie plakjes rode bier nodig.
Roer de whisky, appelsap en honing samen in een klein pannetje en breng aan de kook.
Laat zachtjes koken tot het glazuur een siroopachtige consistentie heeft. Dit duurt ongeveer twee à drie minuten.
Verwijder van het vuur en laat afkoelen.
Voor de vulling doe je de geitenkaas in een kom. Roer de geitenkaas los met het appelsap en de geraspte appel. Je hebt een smeuïge consistentie nodig dus gebruik wat extra sap of een beetje melk indien nodig.
Roer er vervolgens de tijmblaadjes en de roze peper door en breng op smaak met peper en zout.
Dep de plakjes rode biet goed droog en leg per persoon 3 plakjes op een bord.
Strijk de bovenkant vervolgens in met het whisky/honing glazuur.
Bovenop elk sneetje biet komt een kleine eetlepel geitenkaas en daarboven opnieuw een plakje rode biet.
Strijk ook de bovenkant van dit plakje in met het glazuur.
Werk af met de appel batons, lenteajuin en pistachenoten.
Serveer onmiddellijk.
Beetroot, Goat Cheese, Granny Smith, Single Malt and Honey
This open beetroot raviolis are an elegant vegetarian starter.
And with the added bonus that you can prep it way in advance and assemble just before serving.
You can either use a smooth-flavoured single malt such as Glenmorangie Original or go for an outspoken peat-flavoured whisky such as Talisker or Laphroaig.
Any leftover glaze is perfect drizzled over plain yoghurt.
4 beetroot, roasted until tender and left to cool
Glaze:
1 fl oz/ 30 ml single malt whisky
2 tablespoons freshly squeezed Granny Smith apple juice
3 teaspoons honey
Filling:
¾ cup/ 200 g fresh goat cheese
1 fl oz/ 30 ml freshly squeezed Granny Smith apple juice
1 quart of a Granny Smith apple, very finely grated
1 heaped teaspoon thyme leaves, very finely chopped
1 heaped teaspoon pink peppercorn, crushed
Salt and pepper
Final touches:
1 Granny Smith apple, cut into ¼ inch batons
1 spring onion, sliced into thin strips
12 pistachio nuts
Slice each beet in 0,2 inch slices.
You will need 6 decent size slices per serving
Stir the whisky, apple juice, and honey together in a small pan and bring to a boil.
Simmer gently until the glaze has a syrupy consistency. This should take about 2 to 3 minutes.
Remove from the heat and leave to cool.
Put the goat cheese in a bowl and stir in the apple juice and the grated apple. Add more juice or a teaspoon of milk if necessary.
Bear in mind that you should have a creamy, smooth, but still quite firm consistency. The filling should not be too runny.
Fold in the thyme leaves, the pink pepper, and season well with salt and pepper.
Pat the beetroot slices dry and put 3 slices per person on a plate.
Brush each slice with the glaze using a pastry brush.
Spread about one tablespoon of filling on top of the glazed beetroot.
Put the remaining beetroot slices on top of the filling and glaze as well.
Finish with the apple batons, spring onion, and pistachio.
Serve immediately.