Currently viewing the tag: "Cocktail"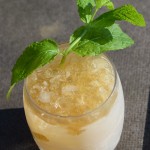 De afgelopen weken waren mijn avonden en nachten vaak gevuld met muizenissen over muizen.
Ik ben blij dat er in onze tuin allerlei lokale fauna rondhuppelt en fladdert.
Binnenshuis ben ik daar een stuk minder blij mee.
Elk jaar op het eind van de zomer zijn er altijd wel een paar veldmuizen die ons [...]
Continue Reading

→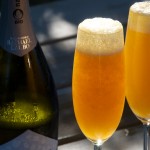 Peach Boy.
Of Momotaro in het Japans.
Deze cocktail kan dan wel de mosterd gehaald hebben bij de klassieke Bellini uit Venetië maar de inspiratie kwam de andere kant van de wereld.
Momotaro is één van de populairste folkloristische helden in Japan.
Het verhaal is dat van een kinderloos koppel dat op het platteland [...]
Continue Reading

→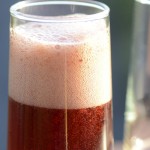 Ja, dit drankje heb ik kleur en seizoensgewijs naar Rudolph, the red nosed reindeer genoemd.
Wellicht destijds te lang in de Verenigde Staten en in Groot-Brittannië gewoond.
Ik had ook voor Scarlet kunnen gaan.
Of King Crimson.
Maar, sinds ik Hugo ontdekt heb, vind ik cocktails die [...]
Continue Reading

→