Wortelrisotto met Hommelbier en Wavreumont Kaas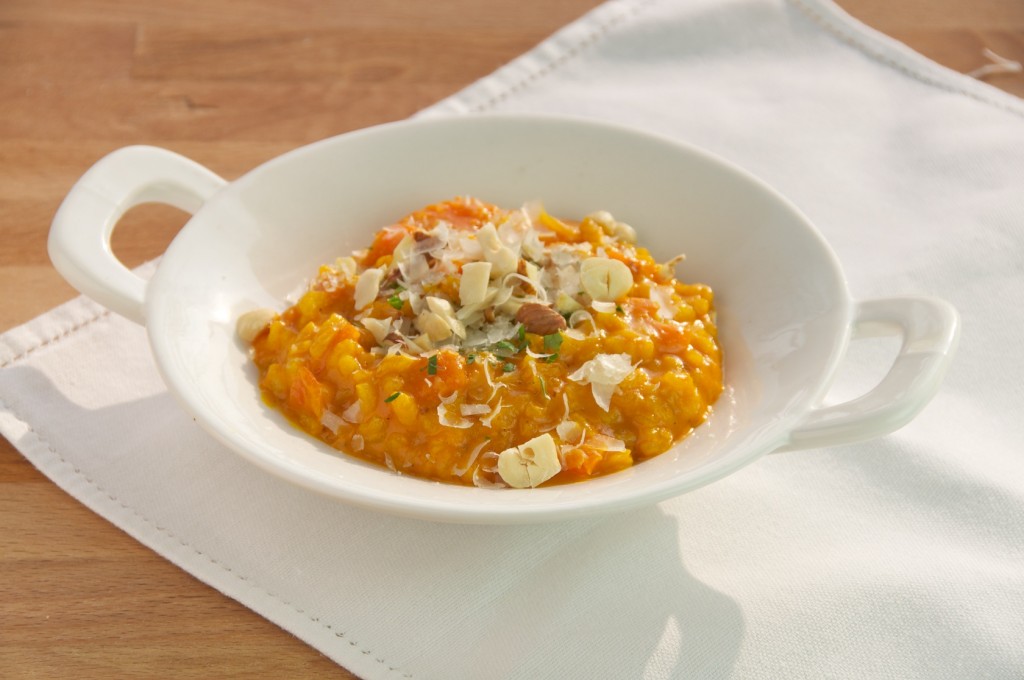 (Scroll down for English version of the recipe)
Toen ik deze risotto aan het klaarmaken was kreeg ik aan het keukenraam gezelschap van een groene specht.
We hebben wel vaker spechten in de tuin maar nooit zo dicht tegen het huis.
Dit stukje tuin was voor hem duidelijk het equivalent van een net ontdekt  'all you can eat buffet' want hij heeft meer dan anderhalf uur met de grootste concentratie en focus wormen uit de grond getrokken.
Charlie Parker, één van onze vaste tuinmerels, kon enkel vanaf de zijlijn zenuwachtig vaststellen hoe zijn vaste wormenvoorraad zienderogen slonk.
Het was een al een mindere week voor onze vaste vogelkolonie want vorige week had een ekster een hele mezenbal die in de notelaar hing losgekregen en met die grote bal in zijn bek weggevlogen.
Nu het volop vriest zit de specht terug vrolijk tegen de bomen aan te timmeren, Charlie is dan wel een pak rustiger, maar ik hoop toch dat hij na de dooi nog eens langskomt.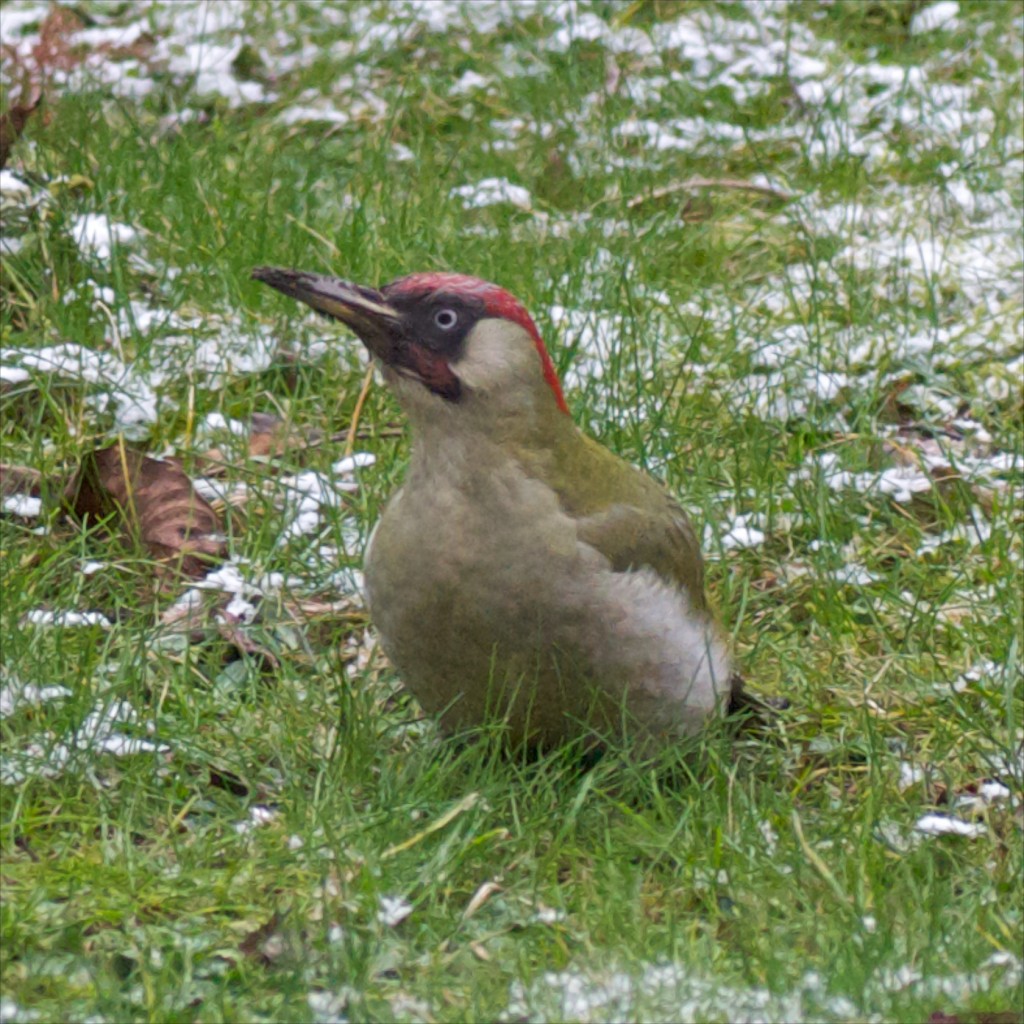 Risotto wordt traditioneel als voorgerecht geserveerd maar ik vind, zelfs kleine porties, meestal voldoende als maaltijd. Overvol van je stoel rollen na een maaltijd vind ik een vreselijk gevoel.
Ik serveer deze risotto meestal als lunch samen met een waterkerssla afgewerkt met citroensap en olijfolie.
De gebruikelijke bouillon in de risotto vervang ik vaak door een vers geperst groentesap zoals wortel, rode biet of venkel.
De smaak van bio groenten, hier dus wortelen,  is beduidend voller en geeft een veel intensere smaak aan dit gerecht.
Het is belangrijk dat de wortelenplakjes niet te dik gesneden zijn.
Risotto is gaar na een kleine 20 minuten en de wortelplakjes moeten op die tijd eveneens gaar zijn.
De nootachtige smaak van de Waalse Wavreumontkaas  is mijn favoriet voor deze risotto.
De korianderzaadjes kan je evengoed vervangen door komijnzaadjes of groene kardemom. Voor komijn kan je dezelfde hoeveelheden gebruiken maar voor kardemom gebruik je net iets minder dan de helft.
De ratio van vloeistof en rijst varieert naargelang de rijstsoort en hoe oud de rijst is.
Ik hanteer meestal een 1 volume rijst / 4 volumes vloeistof maar voorzie altijd wat extra vloeistof.
Deze keer gebruikte ik bijvoorbeeld een ratio van  4,5 vloeistof.
Voor deze risotto heb ik Vialone Nano rijst gebruikt.
Een kleinere risottorijst die iets vlugger gaar is dan de andere soorten en heel mooi de smaak van de wortel en het bier opneemt.
Als je nog nooit risotto gemaakt hebt kies je misschien beter Carnaroli rijst. Carnaroli blijft langer al dente en geeft je wat meer tijd en ruimte, om naar spechten in de tuin te kijken bijvoorbeeld.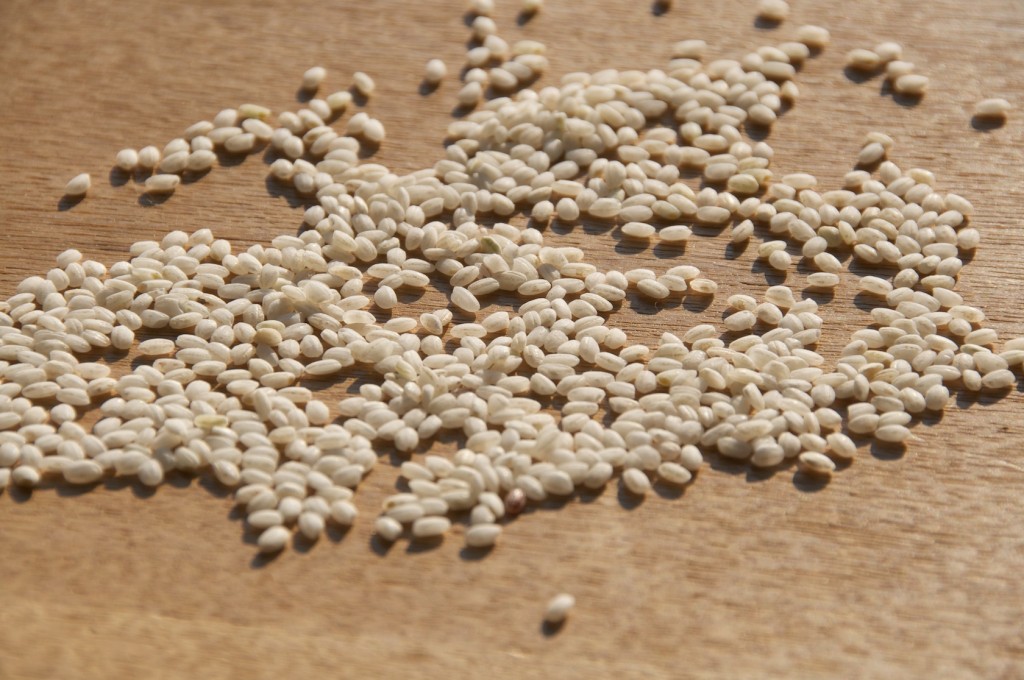 Wortelrisotto met Hommelbier en Wavreumont kaas
(Scroll down for the English version of the recipe)
100 ml vers geperst sinaasappelsap
500 ml vers geperst wortelsap
Klontje boter
1 grote ajuin, fijn gesneden
150 g risotto rijst
2 volle theelepels korianderzaadjes, geroosterd en fijngemalen
4 wortels, in plakjes van 2 à 3 mm gesneden
100 ml Poperings Hommelbier
100 g Wavreumont kaas, in kleine blokjes gesneden
¼ theelepel fijn geraspte onbespoten sinaasappelschil
peper en zout
een handvol geplukte platte peterselieblaadjes, gehakt
100 g hazelnoten, geroosterd en grof gehakt
50 g Pecorino, geraspt
Verwarm het wortelsap en sinaasappelsap in een kleine pan tot het heet is maar zeker niet kookt.
Smelt de boter in een brede pan met zware bodem.
Roer er de ajuin  en korianderzaad door en kruid met peper en zout. Laat gedurende 5 minuten over een zacht vuur garen en roer er dan de wortelplakjes en de rijst door. Draai het vuur iets hoger, roer tot de rijst glazig wordt en blus dan met het Hommelbier.
Giet een pollepel heet wortelsap bij de rijst en roer tot de rijst het sap volledig heeft geabsorbeerd. Herhaal met de rest van het hete sap tot de rijst smeuïg is maar nog wel al dente.
Voeg er de Wavreumont kaas en de sinaasappelschil aan toe en roer tot de kaas net gesmolten is.
Breng op smaak met peper en zout.
Serveer onmiddellijk met de peterselie, Pecorino en hazelnoten.
Carrot Risotto with Hommel Beer and Wavreumont cheese
1 tablespoon of butter
1 large white onion, finely chopped
100ml (¼ cup) freshly squeezed orange juice
500 ml  (2 ½ cups) freshly squeezed carrot juice
150 g (¾ cups) risotto rice (I have used Vialone Nano for this recipe)
2 heaped teaspoons coriander seeds, dry-roasted and finely crushed
4 medium seized carrots, peeled and sliced thinly (about 0,1 inches)
100 ml (¼ cup) Poperings Hommel beer
100 g (½ cup) Wavreumont cheese, diced finely (Wavreumont is distributed in the US by CWI Specialty Foods)
¼ teaspoon finely grated orange zest
Salt and pepper
A handful of flat leaf parsley, chopped
100 g hazelnuts, roasted and chopped roughly
50 g freshly grated Pecorino cheese
Melt the butter in a heavy-based pan.
Add the onions, season with salt and sweat over a low to medium heat for about 5 minutes.
Pour the orange juice and the carrot juice in a small pan and heat thoroughly but make sure it doesn't come to a boil.
Add the carrot slices, crushed coriander and the rice and give it a good stir so the rice is well coated with the butter.
Leave on a medium heat and keep stirring until the rice becomes translucent.
Turn the heat up and add the beer to the rice. Stir until the rice has absorbed the beer completely.
Add a ladle of the hot carrot juice to the rice and stir until the rice has absorbed the juice before adding another ladle.
Continue until the rice is soft on the inside but still has a nice bite to it in the centre.
This should take about 20 minutes.
You might need more juice. This depends on the kind of risotto rice you are using and how long the rice has been stored.
Take the rice off the heat as soon as it is ready and stir in the Wavreumont cheese, parsley, and orange zest.
Season the risotto with salt and pepper. Serve topped with the grated Pecorino cheese and the hazelnuts.
© Lut De Clercq. All rights reserved.